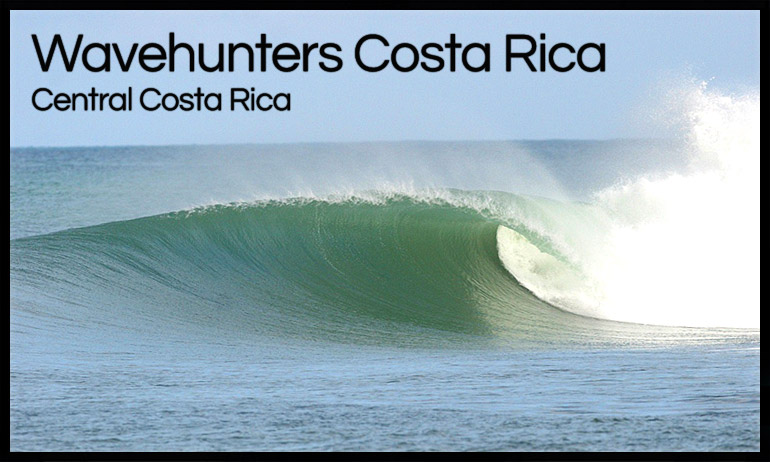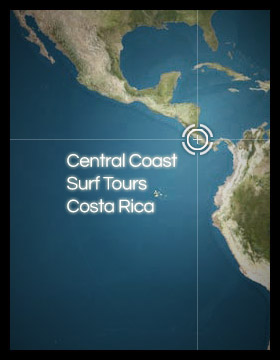 Costa Rica, Central
Accommodations : Jaco Beachfront Hotel and Condos
It is with great pride that Philip and Marilyn Edwardes and Ed Podolak welcome you to the all new hotel CLUB DEL MAR. One of Costa Rica's newest and most beautiful upscale boutique-style hotels and condominiums (casitas) on the Pacific coast. The CLUB DEL MAR Hotel and Resort is nestled in a quiet cove surrounded by mature gardens at the south end of Jaco Beach. A tropical rainforest serves as a backdrop, and gentle waves tumble to a safe beach. This beachfront property has been protected and nourished by Phillip and Marilyn Edwardes for almost a decade. The resort consists of 4 single bedroom, 18 two bedroom (casitas), and an 8-room boutique hotel with 2 penthouse suites, restaurant, bar, travel desk and health spa.
Each casita has an ocean view and is designed to provide the concept of indoor/outdoor living in harmony with the surroundings. Handicap friendly units are available.
Special care has been given to preserving the mature trees that grace this fantastic paradise.
The focus is water sports. Ninety meters of beach front provides safe swimming, canoeing, body surfing, and boogie boarding. Located just steps from the surf is a tropical swimming pool with a social area that is surrounded by Costa Rican flora and fauna, a lap area, and a separate kiddies area for children and grandchildren.
Towering mature trees give shade, and a gentle ocean breeze ensures a perfect temperature for an afternoon nap. These cosy casitas provide a strong connection to nature. The two bedroom, two baths, single level units have high ceilings, 1100 square feet of air conditioned living space, 8 foot doors, louvered windows, a spacious family gathering area, and sleeping accomodations for six.
All rooms and casitas were furnished by award winning interior decorators. A team of experienced billingual hospitality professionals manage and operate the resort assuring our gests of a fun filled, worry free vacation.
All casitas are equipped with:
Top range 4 burner stove
Coffee maker
Dishes & utensils
Pots & pans
Toaster oven
Refrigerator
Safety deposit box
Internet connection
Cable television
Telephone
Sofa bed
Air conditioning
Bed arrangements:
Hotel rooms choice of one kingsize bed or two full size beds
One bedroom casita one kingsize bed and one full size sofabed
Two bedroom casita one kingsize bed, two single beds and one full size sofabed
Check Tour Availability and Pricing Here
Las Olas Surf Camp
Central Coast Surf Package or Beginners Surf Package Includes:
Airport greeting and transfers to and from San Jose international airport
2 meals/day (breakfast and dinner)
Las Olas Surf Camp accommodation*
1 local surf trip per day (breaks: Esterillos, Tulin, Roca Loca, Escondida, Boca Barranca)
OR
1 surf lesson per day, includes bilingual surf instructor, rental board and transportation to surf breaks
4 night Tour Cost:
1 surfer - $575 per person
2 surfers- $535 per person
3-4 surfers- $465 per person
5+ surfers- $410 per person
7 night Tour Cost:
1 surfer - $995 per person
2 surfers- $895 per person
3-4 surfers- $795 per person
5+ surfers- $695 per person
Additional Nights at Las Olas Surf Camp
1 surfer - $140/nt per person
2 surfers - $120/nt per person
3-4 surfers- $110/nt per person
5+ surfers- $95/nt per person
*Rooms come equipped with ceiling fan & security box. Daily maid service is provided as well as night guard and on-site manager to assist you with all your questions. There is a swimming pool on the property as well as the beachfront Las Olas Restaurante.
Take out the headache of renting a vehicle and wondering where's the best spot to be surfing. Depending on your ability and the conditions, your guide will take you to one local spot each day in the Hermosa area such as: Tulin, Esterillos, or Hermosa. Nearby point breaks include Escondida and Boca Barranca. The other daily session maybe spent surfing right in front of your house (a fun intermediate, consistent beachbreak). Surf lessons and board rental/purchase available upon request for an additional charge. Additional activities and tours such as The Treetop Canopy Tour, Horseback Riding, Hangliding and Manuel Antonio National Park can be arranged at the Hotel.
Club del Mar Hotel
Central Coast Surf Package or Beginners Surf Package (5 nights) Includes:
Airport greeting and transfers to and from San Jose international airport
1 meal/day (breakfast or dinner) at Las Olas Restaurant (food not included at Club del Mar)
5 nights accommodation in choice of Room Category
1 local surf trip per day (breaks: Esterillos, Tulin, Roca Loca, Escondida, Boca Barranca)
OR
1 surf lesson per day, includes bilingual surf instructor, rental board and transportation to surf breaks
VALUE SEASON (MAY 3 – MAY 31, SEP 7- OCT 31)
5 night Tour Cost (per person):
1 surfer –$1553 (deluxe), $1761 (1br condo)
2 surfers- $776pp (deluxe), $875pp (1br condo) $1017pp (2br condo)
3 surfers- $634pp (1 br condo), $728pp (2br condo)
4 surfers- $500pp (1br condo), $575pp (2br condo)
5+ surfers- Inquire for price
Additional Nights (per person):
1 surfer –$251 (deluxe), $290 (1br condo)
2 surfers- $125pp (deluxe), $145pp (1br condo) $173pp (2br condo)
3 surfers- $107pp (1 br condo), $126pp (2br condo)
4 surfers- $85pp (1br condo), $99pp (2br condo)
GREEN SEASON (APR 24-MAY 2, JUN 1- SEP 6, NOV 1- DEC 14)
5 night Tour Cost (per person):
1 surfer –$1722 (deluxe), $2061 (1br condo)
2 surfers- $861pp (deluxe), $1031pp (1br condo) $1228pp (2br condo)
3 surfers- $737pp (1 br condo), $869pp (2br condo)
4 surfers- $503pp (1br condo), $602pp (2br condo)
5+ surfers- Inquire for price
Additional Nights (per person):
1 surfer –$300 (deluxe), $352 (1br condo)
2 surfers- $142pp (deluxe), $176pp (1br condo) $216pp (2br condo)
3 surfers- $127pp (1 br condo), $154pp (2br condo)
4 surfers- $101pp (1br condo), $120pp (2br condo)
HIGH SEASON (DEC 15-APR 15)
5 night Tour Cost (per person):
1 surfer –$1892 (deluxe), $2316 (1br condo)
2 surfers- $946pp (deluxe), $1158pp (1br condo) $1370pp (2br condo)
3 surfers- $822pp (1 br condo), $963pp (2br condo)
4 surfers- $641pp (1br condo), $747pp (2br condo)
5+ surfers- Inquire for price
Additional Nights (per person):
1 surfer –$318 (deluxe), $403 (1br condo)
2 surfers- $159pp (deluxe), $202pp (1br condo) $244pp (2br condo)
3 surfers- $144pp (1 br condo), $173pp (2br condo)
4 surfers- $113pp (1br condo), $134pp (2br condo)
© 2015 Wavehunters Surf Travel, Inc. is a registered California Seller of Travel, C.S.T. Registration # 2060272-40. WAVEHUNTERS SURF TRAVEL . all rights reserved | Privacy Policy